Which NFL Stars Home Do You Want?
Posted by Neal Cox on Saturday, September 7, 2019 at 3:58 PM
By Neal Cox / September 7, 2019
Comment
NFL Luxury Homes
Are you thrilled about the 2019 NFL season? We sure are! Sundays, Mondays (and Thursdays too) are a lot more exciting now that football is back!
I am often intrigued by the luxurious lifestyle of some of the greats of the NFL. Sure, not all the players make the big bucks that a select few make (they all still do pretty well). But the NFL can make players very wealthy. Since I am in the real estate industry, I got a little curious. Where (and how) do these guys live?
Leave your muddy cleats at the door and join me on a virtual site-seeing tour of some of the NFL's best real estate!
Tom Brady – QB, New England Patriots
This one, you can actually buy!
You can't get much more star power than Tom Terrific! His estate in Brookline, Massachusetts is on the market for $40,000,000. Tom had this property built four years ago. At almost 10,000 square feet, you can get a spa with a massage room, gym, and (of course) a wine room. If you purchase this property, you can accommodate your guests in the 2,400 square-foot guest house. Check out the organic garden and the golf course that it backs up to!
While waiting for a buyer of his place, Tom will, of course be on the road, working. But don't worry about him during the bye week. He can just stay at another one of his properties!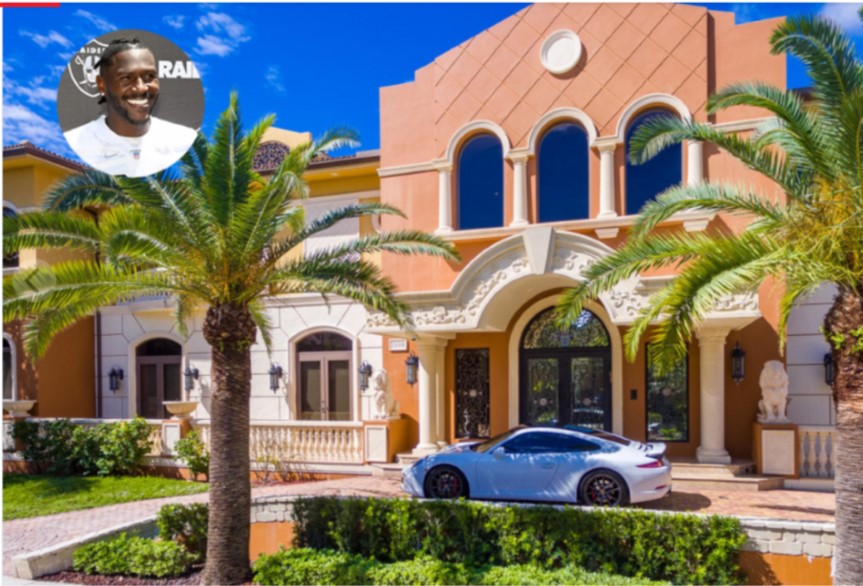 Antonio Brown – WR, Oakland Raiders
Hopefully Antonio Brown will pull it together and see the field soon. He is an electrifying player to watch, and his home in Fort Lauderdale is equally impressive! Boasting 18,000 square feet, Brown's mansion was purchased for $6,600,000. Rumor has it that is was bought for nearly $1M under asking price (must have had a great agent)! Brown's property is complete with 12 bedrooms and 14 bathrooms. It has an impressive outdoor space with a saltwater pool and custom kitchen/wet bar!
.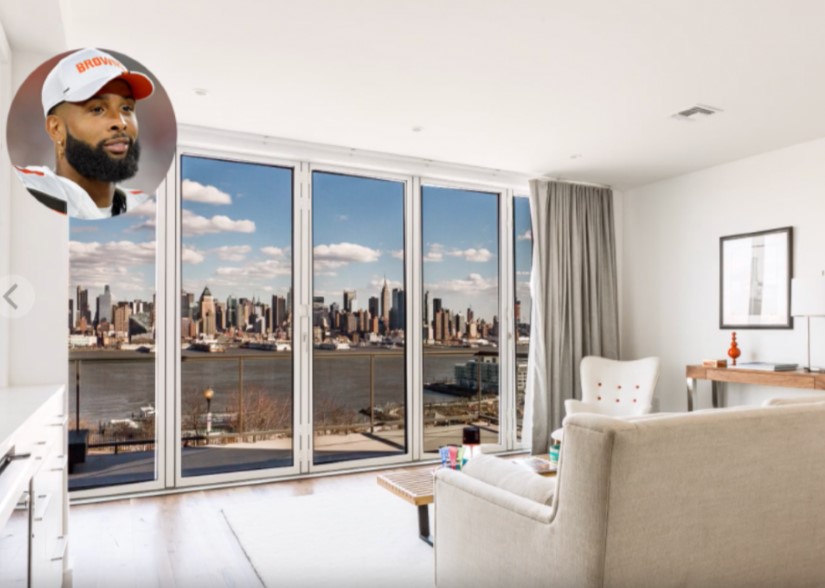 Odell Beckham Jr. – WR, Cleveland Browns
When Beckham was shipped to Cleveland, he left behind a stunning property with views from each level of Manhattan Island. Purchased for $90,000,000 his 3529 square feet is immaculate. (Side note, I can find you a much better price per square foot in our area!) Beckham's house features custom floor to ceiling cabinetry, private terraces, and an impressive chef's kitchen. Check out OBJ's mid-century modern aesthetic!
Russell Wilson – QB, Seattle Seahawks
The NFL's highest paid player certainly has expensive taste. Valued at $140,000,000, Wilson't Mediterranean style home in Bellevue is a stunner. When he moved in, his neighbors welcomed him by flying the 12th man flag (probably brought over a pie too, I'm guessing). Russell and his wife, the singer Ciara, have a home designed for entertaining. They have a media room, poker area, and a wine cellar that holds 2,000 bottles. If you go visit, check out the 500-year-old hand carved entry way!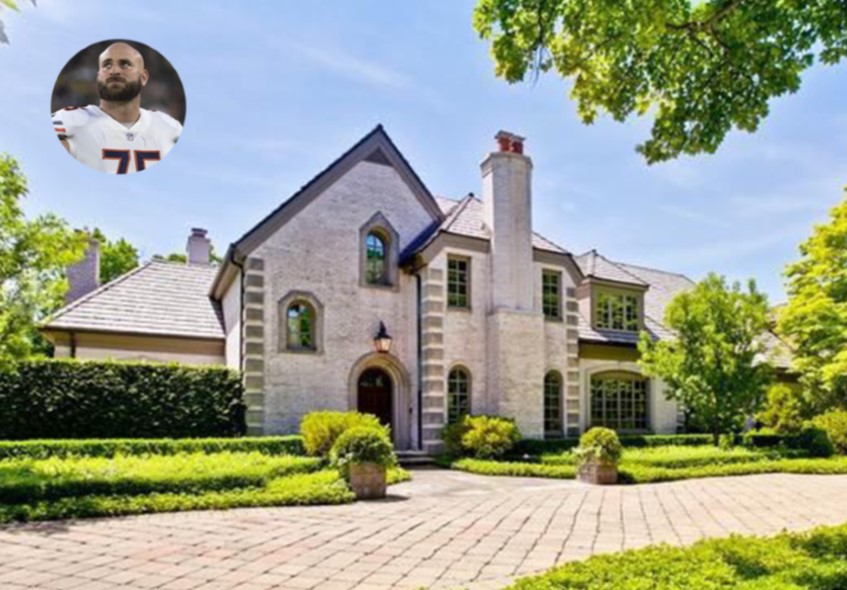 Kyle Long – G, Chicago Bears
Often, when someone gets a nice raise, they upgrade their home. Sometimes it's a nice remodel, but in Kyle Long's case, he spent $12,200,000 on a 6,238 square foot mansion. Don't worry, he just signed an extension worth $40,000,000. Long gained plenty of space and can enjoy his own theatre room. I know those Chicago winters can be rough. So Long made sure he could brave the elements with a heated driveway!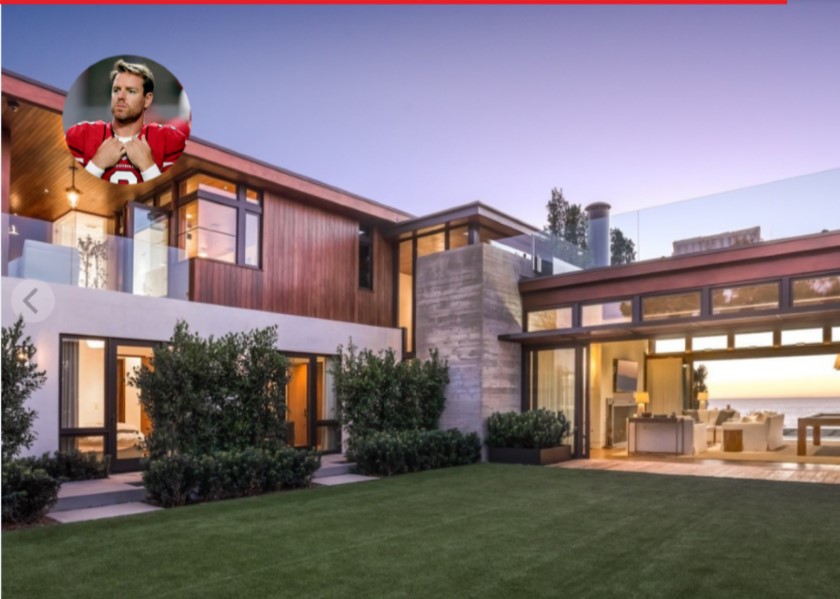 Carson Palmer – Former NFL QB
Palmer was a stellar QB. His agent must have been a master negotiator! Originally listed at $25,000,000, Palmer payed a paltry $4,400,000 for his 8,000 square foot home. Palmer's home is located in the beach city of Del Mar, California. I'm sure he enjoys his raised jacuzzi that overlooks the skyline. While he is soaking and taking in the view, I imagine that he wonders if his Bengals would have won the Superbowl following the 2005 season if it were not for his catastrophic injury in the first round.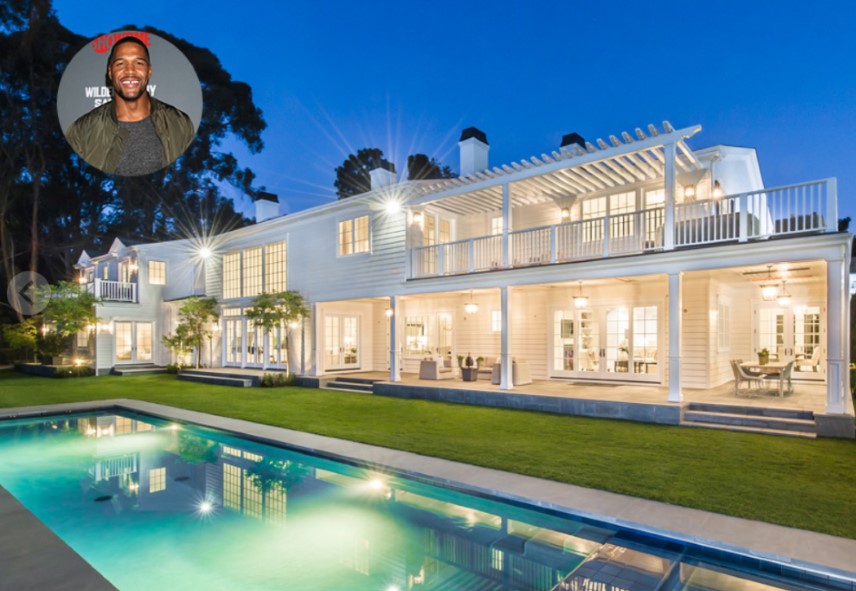 Michael Strahan – Former NFL DE
Michael Strahan went out on top. And the NFL's sack king lives in a top-of-the-line property, estimated at $17,000,000. Strahan is tall, but I imagine he feels comfortable with his 20-ft. ceilings! If he ever gets lost, he need not worry about finding a bathroom. There are 14 of them. Strahan can enjoy his own private theatre and prohibition-style wine cellar when he is home. However, the man is busy! His post-retirement life is full of jobs. I never get tired of watching him on Good Morning America!
See the most luxurious homes for sale in the Louisville area!
Click Here: Luxury Homes in Louisville
Want to get preapproved? Dave Setters with First Fidelity Mortgage has excellent jumbo loan products for loans greater than $484,350. Call him at 502-468-4928 or email [email protected]